PARTNERSHIPS FOR PERMANENCE
P4P has spent the last two days with an amazing group of folks at a leadership and mentoring conference for high achieving youth of color.
A special thanks to The Why You Initiative and Graves Foundation for a wonderful experience.
PARTNERSHIPS FOR PERMANENCE
INNOVATIVE CHANGE LEADERSHIP
Our leaders are spending three days learning about Innovative Change Leadership this week. A special thanks to Alia for bringing great thinkers and innovators together to DISRUPT the system.
Another special thanks to Eliza for the invitation.
PARTNERSHIPS FOR PERMANENCE
A networking event hosted by Charities Review Council gave P4P a great opportunity for our team to connect with others teams in the nonprofit sector.
A special thanks to DeeDee for the invite and support.
PARTNERSHIPS FOR PERMANENCE
8TH ANNUAL HOLIDAY SOIREE
december 2018
We recently celebrated our 8th Annual Holiday Soiree for Foster and Adoptive Youth and Adults. This was one of the greatest highlights of the 2018 year at Partnerships for Permanence!
We had a lot of supporters and donors that contributed to make this a memorable event. A special thanks to our event sponsors and planning committee members.
PARTNERSHIPS FOR PERMANENCE
October 2018
It was great to finally be in a space with like-minded folks at the BushConnect event yesterday! It was a wonderful experience that reminded us - we are not alone. Despite the challenges and push back we sometimes face, we have to keep moving forward no matter what. Three key messages:
#1 Our stories do matter. #2 Turn disadvantages into advantages. #3 Collaboration is possible. You just have to find people who share the same vision and can imagine the big picture even when you can't see it yet. Special thanks to Bush Foundation for the event and Danielle from Propel for the invite.
PARTNERSHIPS FOR PERMANENCE
POLLEN MIDWEST AND PROPEL NONPROFITS TRAINING
September 2018
A huge thanks to Pollen Midwest and Propel Nonprofits for a great training in September. Our team enjoyed learning about Donor Engagement and Fundraising. A special thanks to our wonderful team, Board of Directors, and Donors.
Your unwavering support is deeply appreciated and cheers to many more amazing projects with opportunities to expand our work and team.
PARTNERSHIPS FOR PERMANENCE
July 2018
Partnerships for Permanence had a great time at the Tomorrow's Leaders Today Conference in Duluth! TLT is designed to show young people aging out of foster care that they have potential as leaders, to teach them leadership skills, and to identify ways they can become participating citizens in their communities.
Our team did an amazing job training child welfare youth and professionals!
PARTNERSHIPS FOR PERMANENCE
May 2018
Street Heat in May was a great day at the Minnesota State Fairgrounds! Partnerships for Permanence represented in style alongside great music, good food, and cool cars!
PARTNERSHIPS FOR PERMANENCE
PROPEL NONPROFITS ASK THE EXPERT MEETING
MARCH 2018
On March 9th, Partnerships For Permanence attended the Propel Nonprofits Ask the Expert Meeting. The last two years of this partnership have been amazing. Thanks for the ongoing support!
PARTNERSHIPS FOR PERMANENCE
BEAT THE ODDS CHILDREN'S DEFENSE FUND EVENT
March 2018
The Beat the Odds Children's Defense Fund Event on March 8th was an amazing experience for Partnerships for Permanence. A huge thanks to our Board member Lauren, for an invite to the event. Five inspiring youth were awarded scholarships to attend college.
Awesome speakers and guests included Dr. Marian Edelman, Dr. Artika Tyner, Former Mayor Sharon Sayles-Belton, and Ed Graff. What an inspirational night.
PARTNERSHIPS FOR PERMANENCE
dECEMBER 2017
P4P Annual Holiday Party!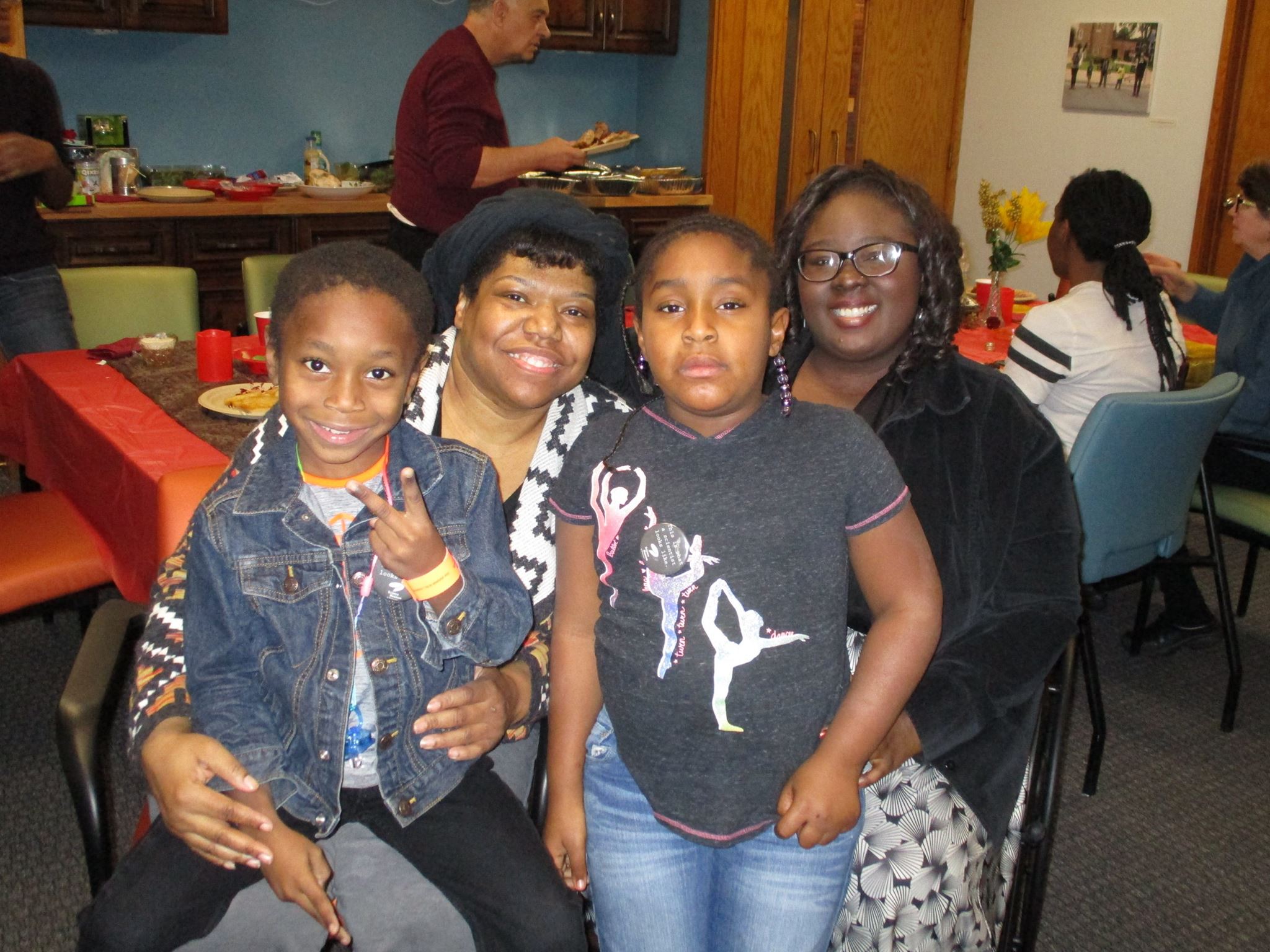 PARTNERSHIPS FOR PERMANENCE
nOVEMBER 2017
Partnerships for Permanence's 6th Annual Holiday Gathering! This was a great event. Special thanks to Michelle, Sally and the crew for helping to make it a success. We had lots of delicious food, fun games and heartfelt stories of healing and hope.
PARTNERSHIPS FOR PERMANENCE
TOMORROW'S LEADERS TODAY YOUTH LEADERSHIP CONFERENCE
MAY THROUGH JULY 2017
In July, Partnerships For Permanence the Tomorrow's Leaders Today Youth Leadership Conference put on by the Department of Human Services. This workshop focused on helping youth understand how to collaborate and work with adults to get their needs met, and how to positively deal with issues that arise in their lives.
Focusing on problem solving, critical thinking, and balancing life expectations, our youth learned how to follow the path and feel more secure in their decision making.
PARTNERSHIPS FOR PERMANENCE
LUTHERAN SOCIAL SERVICES TRAINING
June 2018
In June, Partnerships For Permanence co-facilitated a youth panel for their pre-adoptive training with Lutheran Social Services. There were over 40 families in attendance and the event was a huge success!
PARTNERSHIPS FOR PERMANENCE
LISTENING SESSIONS WITH CHILD WELFARE PROFESSIONALS
June 2018
A special thanks to the following agency partners that attended our First Annual Child Welfare Listening Sessions:
The Graves Foundation, Department of Human Services, Sauer Foundation, St. Paul Youth Services, The Collective Lab, Lutheran Social Services/ Children's Home Society, Family Alternatives, Ampersand Families, Connections to Independence, and Ramsey County Human Services.
March through April 2017
We had the opportunity to work with talented youth consultants and professionals to conduct listening sessions with over twenty youth and ten parents. Stay tuned for more information about P4P's Listening Sessions with Foster and Adoptive Youth & Parents. Special thanks to Connections to Independence, High School of Recording Arts, Black Liberation Project and the adoptive parents that participated in this youth-adult partnership event.
PARTNERSHIPS FOR PERMANENCE
NETWORKING AND COLLABORATIONS
January through July 2017
This year we are planning to collaborate with amazing individuals, agencies and funders. The goal is to increase our pool of partners that champion our cause and mission. If you are interested in becoming a partner, please contact us!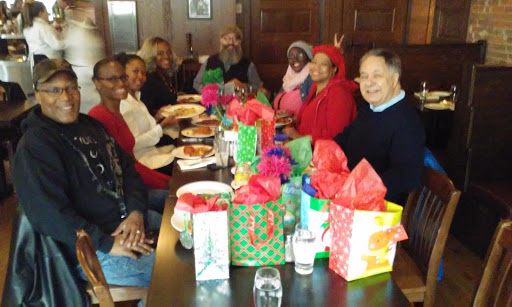 PARTNERSHIPS FOR PERMANENCE
2016 P4P AND AFAAD HOLIDAY PARTY
DECEMBER 2016
Our team celebrated the Holidays with fellow foster alumni and adoptees for a 'family style' dining and gift exchanges at the P4P Holiday Gathering for Foster Alumni and Adoptees. It was a great opportunity to mingle, laugh, and connect!
SEPTEMBER 2016: PRESENTED TWO WORKSHOPS AT THE STATEWIDE GUARDIAN AD LITEM CONFERENCE
Partnerships for Permanence facilitated two workshops. Each workshop was co-facilitated by trained young adults, and a portion of the session was devoted to them sharing their personal stories as former foster youth and adoptees.
Workshop Topic 1: Youth-Adult Partnerships - Permanency 101 (90 minutes). P4P Team helped participants find their way to more authentic engagement with young people, and be able to work TOGETHER with them toward greater permanency.
Goal: To help professionals develop the skills to authentically engage with young people around permanency planning.
Workshop Topic 2: How to adaptive and responsive to youth (90 minutes) Do you struggle with communication with your youth around case planning? What are important goals that youth and adults can work towards? P4P Team helped participants create meaningful and powerful opportunities for communication and growth with youth.
Goal: Provide practical applications for how participants can become stronger advocates for youth. Share tips and recommendations for how professionals can be more adaptive and responsive to youth in crisis.
JULY 2016
Our team created and launched a youth-facilitated online forum discussion for current and former foster youth and adoptees, called "P4P Social". If you or someone you know would like to join the discussion every 1st Tuesday of the month from 7:00 - 9:00 p.m., please contact us below for more information.
July 2016
Excited to announce affiliate relationship with GIFT Family Services. Our hope is to connect with foster and adoptive families and offer consultation services to the team at GIFT Family Services and provide support to the families starting their adoption journeys.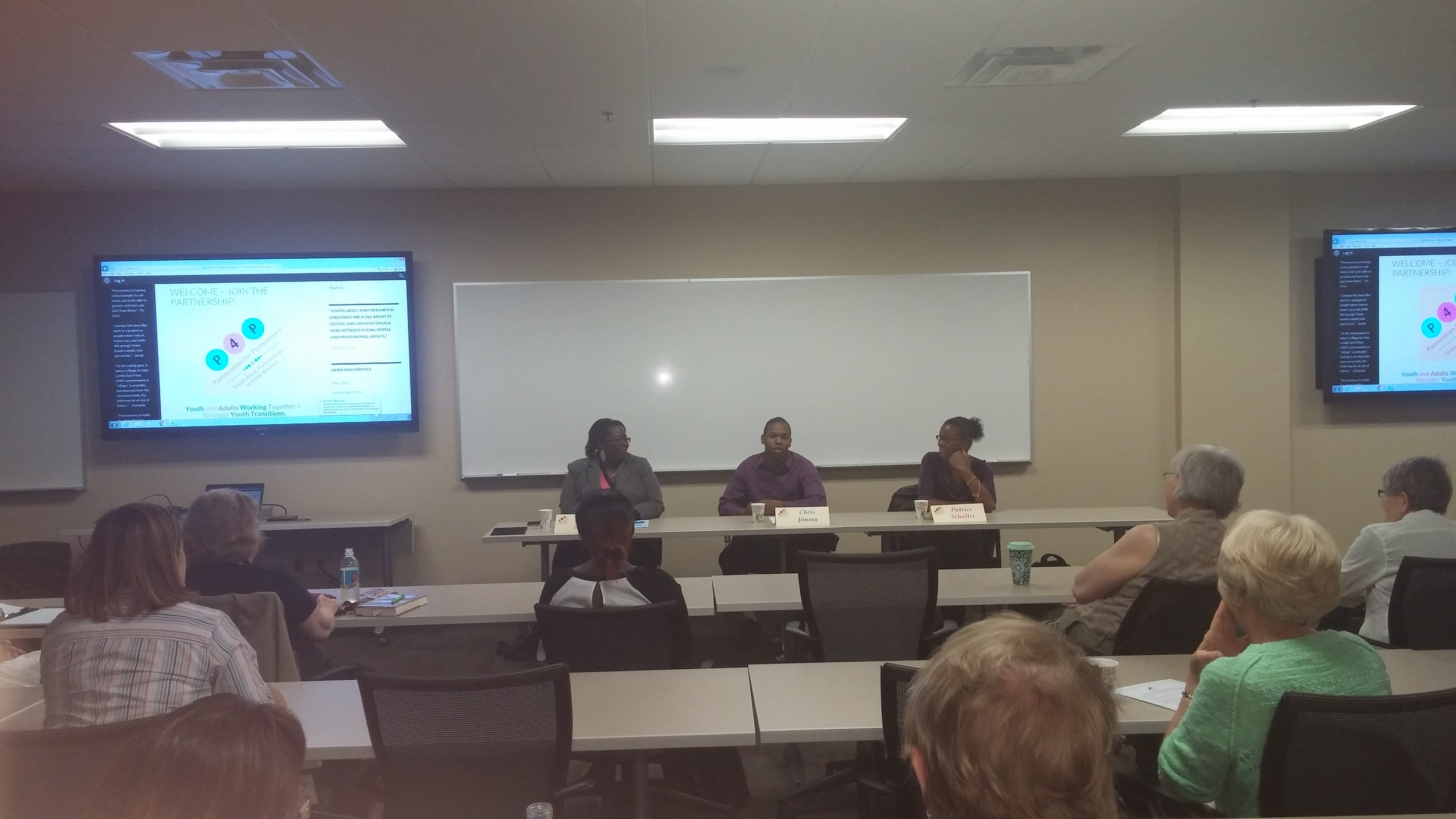 PARTNERSHIPS FOR PERMANENCE
June 2016
This was an amazing experience for our team to have received rave reviews about our training from an audience of child advocates. Many thanks to CASA Minnesota for sponsoring the Roundtable Discussion for Hennepin and Ramsey County Guardian ad Litem Program.
Hennepin and Ramsey County GAL Event
June 26, 2016
InCarNation Automotive's Track Time for Tots was a fundraiser for foster and adoptive kids and families to participate in ride along around the Dakota County Technical College Race Track in amazing luxury vehicles.
May 23,2016
We had a great opportunity for youth and adults to join an online forum moderated by fosterees and adoptees called, P4P Social!
Learned about resources, heard stories from youth and professionals and used your voice to inspire change! Contact us to register and join "P4P Social" our online forum.
September 2015
The purpose of healing through letters was to help participants release and reflect on lessons learned from child welfare. Letters were used in our awareness campaign. As we continue to work with professionals and youth in child welfare, we want to be able to share inspiring stories of young adults overcoming odds and inspiring personal growth.
AUGUST 2014
Lola, Matt, D'Angelo, and Mikal had an amazing kick-off for Partnerships for Permanence August 6th-8th in Philadelphia with attendees at the National Resource Center for Youth Development's National Pathways to Adulthood conference.
Our session at the conference pulled on case studies, research, and experiences of youth-adult partnerships (Y-APs) within systems of care. Youth leader D'Angelo facilitated an ice breaker called "The Closet" that illustrated the idea of young people not feeling safe to "come out" as being their full selves and expressing who they are. We closed the presentation by asking the professionals what they learned from the session and what would be useful for their daily work in the field.